Paper Tube
Materials & Specifications
---
---
At Jonesville Paper Tube Corporation, we know every situation and solution is unique. That's why we carry the largest variety of raw materials in the industry and can create just about anything you can dream up with a custom paper tube. Each of our paper tube products are made in the USA from 100% recyclable paper.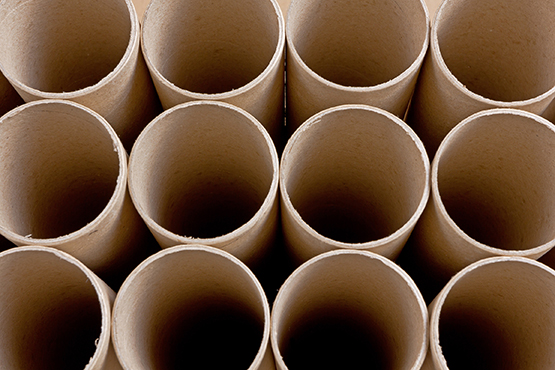 For more information about our products, process or materials, contact us! We are here to help you find the best solution and welcome all questions. Discovering the perfect solution is easiest when you can see the paper tubes in person, request your free idea kit today! Your kit will include several samples with different paper types, finishes, thicknesses and closures.
Raw Materials
---
---
We pride ourselves on exceeding our customers' needs and execute every idea, no matter how far outside of the box. Doing so starts with having the raw materials needed to construct the paper tube product. With a variety of paper options, your tube will be made exactly how you need it from the highest quality materials.
For more information, contact us today!
In-Stock Paper Tubes
---
---
We are one of the only paper tube companies that slit the paper to the width of the tube, offering a higher quality and stronger paper tube. If you already know exactly what you're looking for in terms of size, shape and type, our paper tubes come in the following standard arrangements:
End Closure Options:

Open End
I.D.'s from 3/16"
Knife or saw cut

Flat End
I.D.'s from 1/4" to 1"
Walls .020 to .040
Lengths to 4"
Indented bead near end for tighter fit.

One End Curled
I.D.'s from 1/4" to 3"
Walls .020 to .050
Lengths 1/2" to 12"
With or without disc
Bead available

Two Piece Telescopic
I.D.'s from 1/4" to 3 1/2"
Lengths 1 1/2" to 12"
Indented bead for snug fit
Curl with disc or metal end closure

Three Piece Telescopic
I.D.'s from 1/4" to 3 1/2"
Walls from .040 to .100
Lengths 3" to 24"
Curl with disc or metal end closure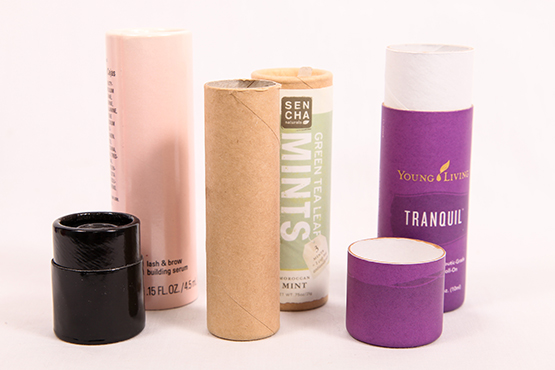 End Closures
---
---
Finding the perfect end closure for your paper tube is easy! With many options available, we have exactly what you need. Metal end caps secure heavy items for shipping or storage while plastic caps offer the same security for lighter weight items and come with easy open tabs. For a more decorative look that's great for retail, our paper tops are ideal.
Colors
---
---
We carry nearly 40 tube colors in stock, with a variety of finishes including gloss, matte, embossed and foiled. Each of our standard colored tubes can be tailored to include a logo and a unique end closure option. If you are looking for a specific color, we are able to match Pantone colors, too. For this option, learn more about our specialty paper tubes.
For more information about sizing, color options and for other questions, contact us today!