The Client
Lamar University is among the fastest growing Texas colleges and universities. Located near Houston in Beaumont, the university offers more than 100 programs of study leading to bachelor's, master's and doctoral degrees.
The Challenge
University needed a reliable way to present graduates their diplomas during the graduation ceremony and something that could be easily shipped to students who did not attend the ceremony.
Lamar University had been utilizing traditional diploma covers, but were having quality issues. The traditional covers were also costly and difficult to ship, often forcing the university to reprint diplomas that had been damaged during shipping.
The Approach
Jonesville Paper Tube Corporation worked with Lamar University to design a diploma paper tube that resembled the branding of the diploma cover they had been using. It was very important to the university that the diploma tube look and feel sophisticated.
To ensure the end product was exactly what they wanted, Lamar University was able to customize every aspect of the tube, including the color, thickness, paper type, end closure and design.
Lamar University's Diploma Paper Tube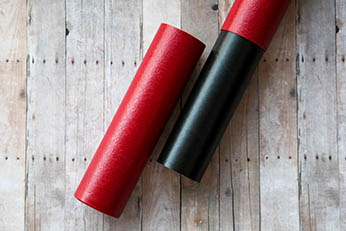 TUBE: 3 piece telescopic with curl and disc closures
DIMENSION: 1.500" x 12.000"
FINISH: embossed red
EXTRAS: matte white liner, gold seal
The Result
For about 50 percent less than what they had been paying for diploma covers, Lamar University now has a superior way to present or ship diplomas. The ease of shipping the paper tubes has saved a lot of time, money and hassle. The durable, moisture resistant tubes can be mailed just by adding a label to them. Most shipping labels can be easily removed without damage, enabling the diploma paper tube to still be used to commemorate the accomplishment.
In the years they have been working with Jonesville Paper Tube Corporation, Lamar University has always received a consistent and quality product.
The Client
Located in Gunnison, Colorado, Western State Colorado University is a small liberal arts college deep in the heart of the Rocky Mountains.
The Challenge
Western State Colorado University was undergoing a name change, and subsequent rebranding. As a result, they needed to order new diploma holders that matched their new branding within a budget that was less than usual.
In addition, they learned from talking to students that the traditional diploma covers they had been using served little to no value after the graduation ceremony. Most had their diploma framed, discarding the cover. Some used the cover to store their diploma; however, it did not protect from moisture or bent corners. Due to this, the university wanted to find a better product to present their diplomas in, that was still within their budget.
The Approach
Knowing the opportunity to change the way they present diplomas would come sooner rather than later, Western State Colorado University started exploring their options a few years prior to making the transition. At this time, they met Jonesville Paper Tube Corporation for the first time at a conference, and they took the opportunity to learn more about our diploma paper tubes.
Impressed with our capabilities and confident in the relationship they had built with Jonesville, Western State Colorado University found their solution. To help the decision on a paper tube design and specification, Jonesville Paper Tube Corporation sent an idea kit so they could see first-hand many of their options and examples of paper tubes made for other colleges.
Western State Colorado's Diploma Paper Tube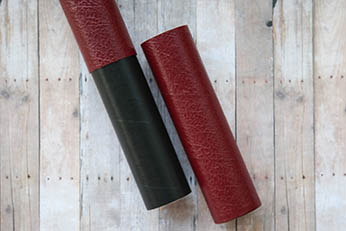 TUBE: three piece tube
DIMENSION: 1.875" x 12"
FINISH: embossed maroon outer ply
EXTRAS: gold pad printed seal
The Result
Western State Colorado University now has a superior option for presenting their diplomas during the commencement ceremony and a better way for students to store their diplomas after graduation. All of which costs the university about 50 percent less than what they had been spending on diploma covers.
The Client
Based out of Wilmington, Delaware, Kindred Skincare Co. offers a line of beauty products for oil cleansing. Inspired by nature, Kindred's products are made from 100% organic ingredients.
The Challenge
As a brand-new company, Kindred Skin Care Co. needed packaging that stood out in the retail environment, while exuding the holistic approach and luxury of the brand. Durability needed to be at the core because their beauty products were in glass bottles that must have protection from breaking. Kindred's sustainable values and American made approach needed to be encompassed as well.
The Approach
To ensure all needs were met, Kindred worked with Jonesville Paper Tube Corporation to develop their packaging from the ground up. This allowed Kindred to be involved with every step, customizing their retail paper tube packaging so it fulfilled all functional requirements and conveyed their brand attributes through the design and materials used.
Since their products come in glass bottles, durable packaging was nonnegotiable. Research and development for this phase included literally tossing the packaged product down the stairs until the exact paper thickness to protect the bottle was discovered.
Kindred Skincare Co.'s Paper Tube Packaging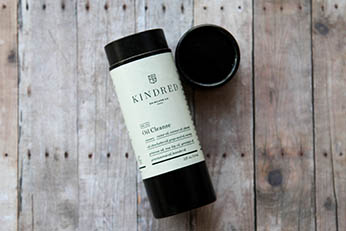 TUBE: three-piece telescope tube
Closure: curl and disc closure
EXTRAS: black LCK outer plies
The Result
Kindred's packaging exudes their brand values and attributes. It has the same hand-crafted feel their products do because each requires a personal touch. The paper tube package not only protects the delicate product during shipping and on the retail shelf, but is reusable as well. Each package doubles as the travel case, which is exactly what Kindred had in mind.
The overall strategy to design packaging that stood out in a retail environment, increasing point-of-purchase sales, was thoroughly achieved. In the two years since Kindred Skincare Co. was developed they have experience rapid growth. Their skincare products are now being carried by boutiques and high-end department stores throughout the United States.